If you're at a loss for landscaping design ideas, a backyard concrete patio is a compelling (and cheaper) alternative to a deck or porch. Simple, unadorned patio slabs are a thing of the past, thanks to innovations like stained or stamped concrete, which impart realistic colors and/or patterns that effectively mimic more expensive materials. Coupled with a progressive design approach, installing a modern concrete patio can produce truly stunning results.
Let's explore how these looks are achieved and how to apply them.
Poured concrete basics
There are two starting points for your backyard concrete patio design — poured slabs or pavers. Pavers are precast concrete units that are installed much as you would patio brick or stone, with sand or another aggregate material preventing slippage on the bottom and filling in the gaps. For the purposes of this post, we will be focusing on poured applications. 
Preparing a slab begins with an idea of where in the backyard the concrete patio will be. Once the layout is determined, the foundation for the slab is readied. The soil that will be beneath the slab (the subgrade) will be cleared of debris and compacted to ensure an even pour and stability over time. Above this, a subbase of gravel or other material is applied. Wire mesh or rebar may be laid as reinforcement. 
Finally, the concrete is ready to pour! A wooden framing structure (forms) defines the final shape of the slab. From there, it is on to finishing (with a broom or stamp), curing (hardening), and sealing. 
Stained concrete patios
Stained concrete helps your backyard patio better harmonize with the surrounding landscaping and your home's overall aesthetic. The most common way color is added is through surface stains, which inflect earthy tones to new or existing concrete. If first pouring a concrete slab, integral pigments are another option — these are infused into the wet concrete mix for even color distribution throughout. Compared to surface staining, a somewhat wider range of tones can be achieved. 
For more vibrant tones and shades, you may opt for a color hardener (common in the stamped concrete patios to more convincingly emulate natural brick or stone) or even dyes to create a detailed graphic. However, dyes are not typically recommended for outdoor use and custom graphics may require the services of a professional artist.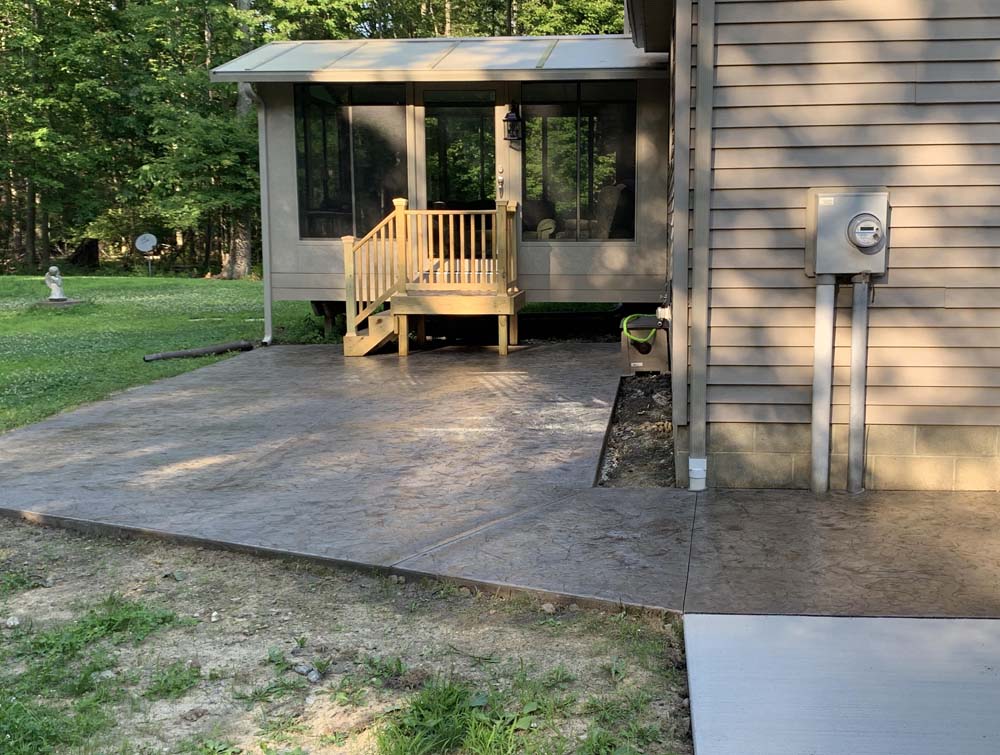 Stamped concrete patios
Stamped concrete is the new standard for backyards patios (and walkways and steps as well). The versatility of this material is unparalleled — by balancing color ratios and mixing and matching the dozens of stamping patterns available on the market, your imagination is really the limit when it comes to design. Stamped concrete patios also begin with a poured slab, but with the additional step of texturing with stamping mats or rollers. 
A stamped concrete slab is much more difficult to execute than a traditional broom-finished slab, so it is best to entrust the work to a contractor. Timing is of the essence here — there is a  narrow window when the concrete is at its optimum impressionability, when the stamping pattern most readily leaves its mark. Depending on the size of the slab, it may take a concerted team effort to maximize this window. Fine detailing, touch-ups, control joint installation (to limit cracks) ensures a seamless look and the most durability. 
From pouring to sealing, a stamped concrete patio takes a few weeks to complete (with most of that time devoted toward proper curing).
Achieving your backyard patio's perfect pour
Mark Anthony Concrete is the Erie area's paragon for poured concrete patios. Combining your ideas and our expertise, we will plan a beautiful stained or stamped concrete patio design around your backyard's unique landscaping features and topography (e.g. a multi-tiered patio for changing elevation). Combine with features like a fire pit or pergola and your patio becomes the place to be all summer long.